Hello everyone!
The first half of this year has seen us consulting users extensively to help us design a dashboard for community business volunteering data.
To everyone who has supported this effort, thank you! Your advice and guidance has helped us reach what we think is a brilliant data dashboard which is available now for all Twine users!
The dashboard can be reached via the new login button in the top right of our website.
We've aimed at building a powerful dashboard which makes identifying trends and reporting on data much simpler and faster than our old dashboard.
The dashboard features easy read charts of your data which can be customised by activity for added clarity:

An easy date range picker to segregate your data into manageable chunks: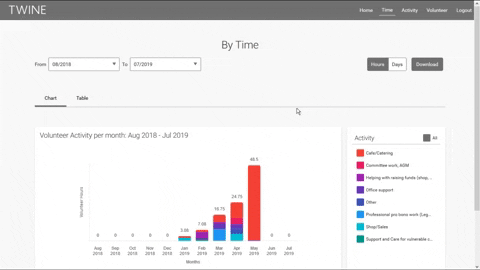 A table view which contains all your data and offers easy download to .csv (for excel):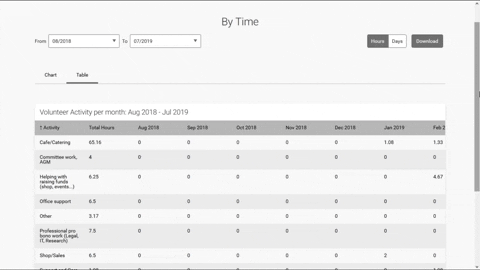 Plus lots of other neat features, go check it out!
We look forward to hearing what you think and the ways you've put the dashboard to use. Any and all feedback can be sent to powertochangetwine@gmail.com
Thanks for reading!